Morning Chore Chart Printable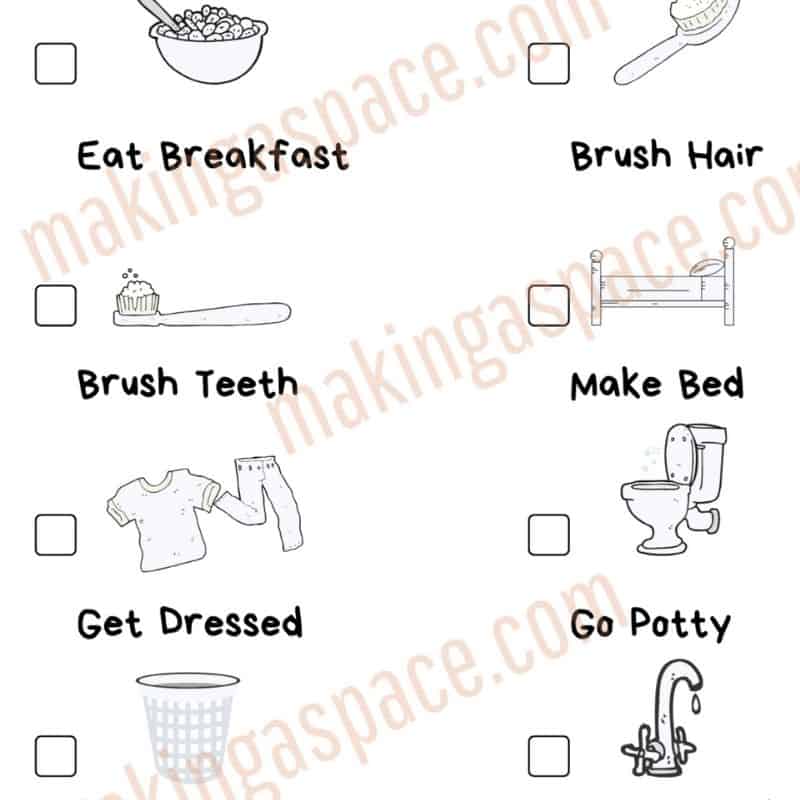 Are you hoping to change your child's morning schedule into more of a routine? This picture chart for young kids will help remind them what needs to be done every morning so you don't have to!
Scroll on down to get your free downloadable morning routine chart for kids.
What Is a Good Morning Routine?
As a parent, we wonder this all the time. What can we do to establish a good morning for our kids and for ourselves? This printable will help answer those questions!
This morning chart is perfect for kids who need a little extra reminding of what needs to be done in the morning once they wake up. I also have a printable chore chart for the whole family too! Let's not forget about keeping mommy and daddy stay sane.
The chart has all the bases covered by reminding them to brush their teeth, put their dirty pj's into the hamper and even make their bed!
Set Up a Reward System
When your child successfully checks off all boxes in the morning he or she can earn a reward. A container filled with small prizes, stickers or treats is the perfect way for kids to stay motivated each day.
Only Need to Print One Copy
After you print your chart, be sure to keep them safe. I like to laminate my charts so I can reuse them each week. All you will need is a laminator, dry erase marker and eraser to get you started!
---
Click below to print your copy of the morning routine printable.
---

I Hope You Enjoy This Free Chore Chart Printable!