You can learn how to tie-dye with bleach using this collection of tie-dye patterns and designs. Tie dye bleaching is easy to learn and in no time you'll have tie-dye hoodies, sweatshirts, sweatpants and more!
Sometimes you will hear this technique called reverse tie-dying since it is technically taking the color out of an item instead of applying it. As long as you use a darker clothing item that is non-white you can use this bleaching design to create some amazing and cool bleach tie dye patterns
Supplies for Dyeing With Bleach
You'll only need a few supplies to make a tie-dye bleach clothing piece. See below:
Colored Hoodie, T-shirt, Leggings or Sweatpants (anything you'd like)
Rubber Bands (different sizes and widths)
Spray Bottle
Bleach
Water
Rubber Gloves
I highly suggest bleaching outdoors or in a well-ventilated area for your safety as well as wearing a protective covering to protect your clothing from splashes.
Bleach Tie Dye Techniques
There are a few different ways how to do bleach tie-dye which I'll highlight below. You may find ways that I don't mention which will more than likely work just as well too.
Crumple Bleach Tie Dying – crumple up your fabric evenly and secure with rubber bands.
Folding Bleach Tie Dying – use different folding techniques to create a unique piece. Learn more about the Folding Tie Dye Technique with this video.
Clipping Bleach Tie Dying – use one or multiple clips or clothes pins to hold the fabric in place to create a fun design
If you are ready to get started then scroll on down to look through a couple of my favorite bleach reverse tie-dying tutorials.
Bleach Tie-Dye Ideas and Tutorials
---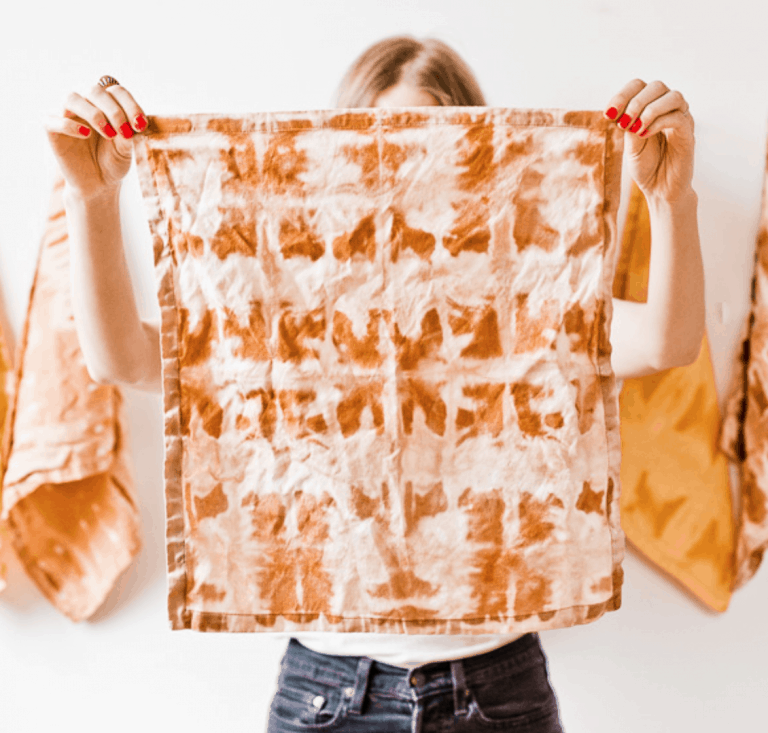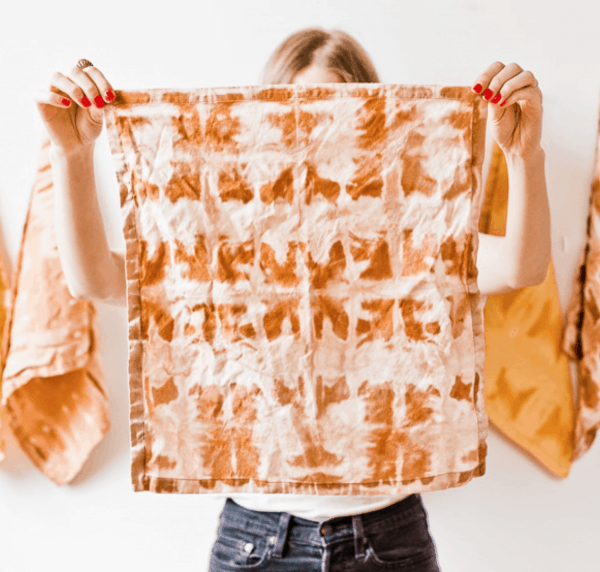 Bleach Tie-Dye Tea Towel
This gorgeous way of bleach tie-dying creates a DIY shibori textile. This tutorial also includes different techniques to create multiple patterns from papernstitchblog.com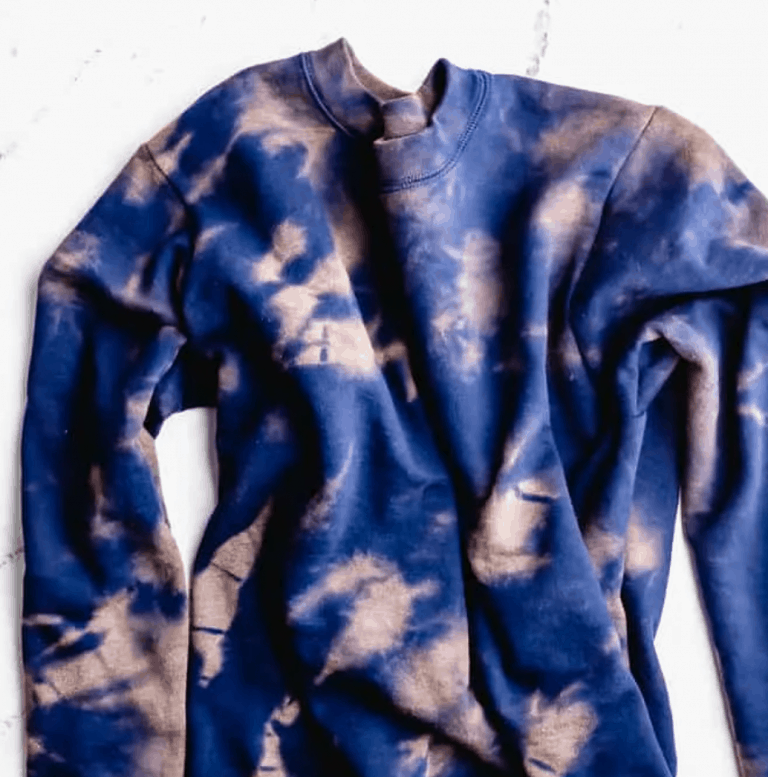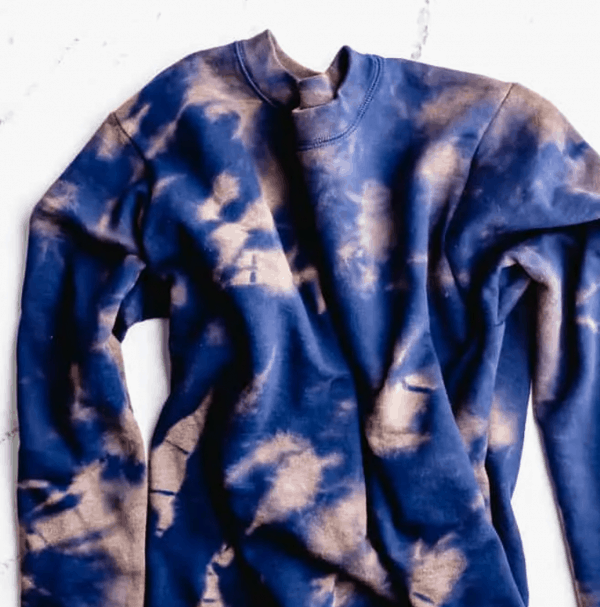 How to Bleach Tie – Dye a Sweatshirt
This simple bleach tie-dye tutorial shows you how easy it is to make a fun sweatshirt. Plus, there is even a free video tutorial to help from sarahmaker.com.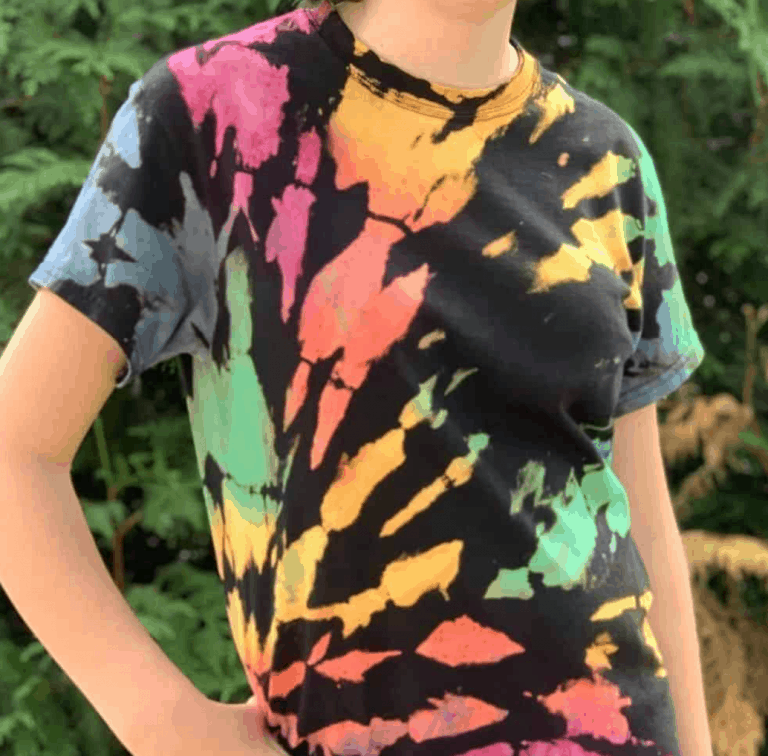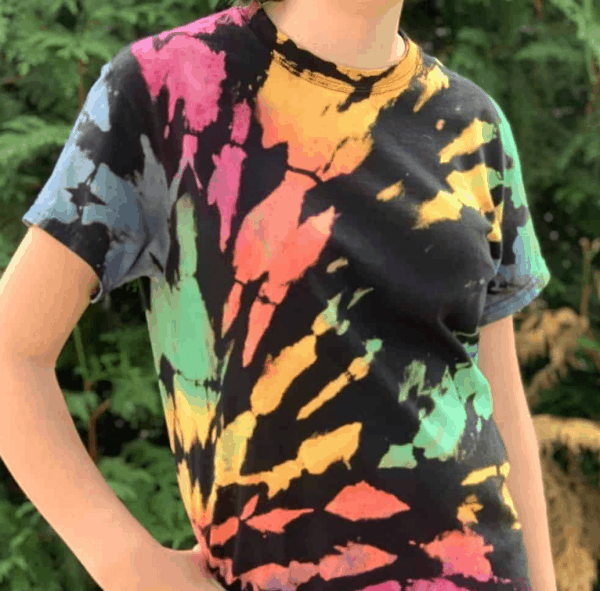 Reverse Tie-Dye T-Shirt with Color
Learn how to reverse bleach tie-dye then add color back with this fun tutorial. Get the step-by- step instructions for this bleach tie-dye shirt from chaoticallyyours.com.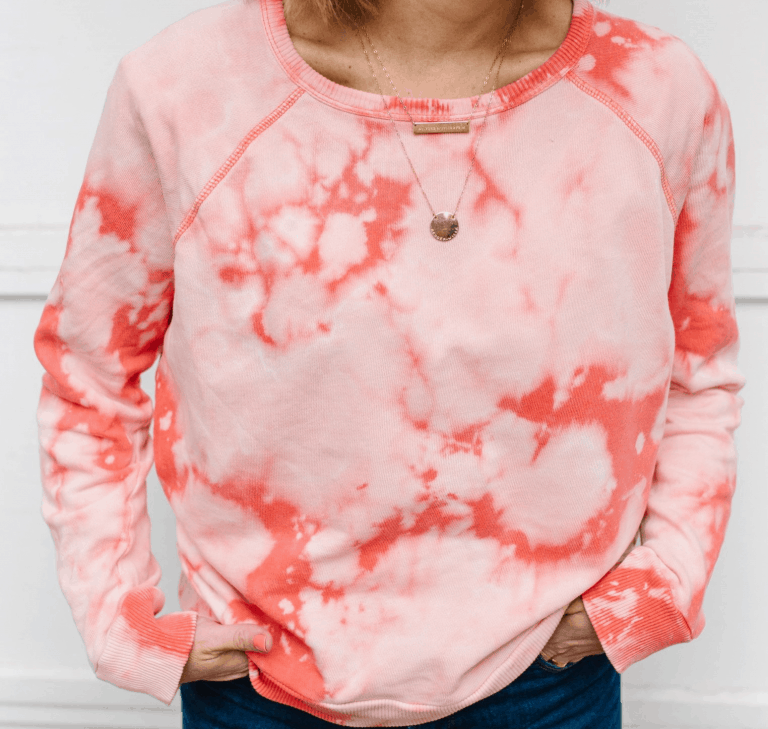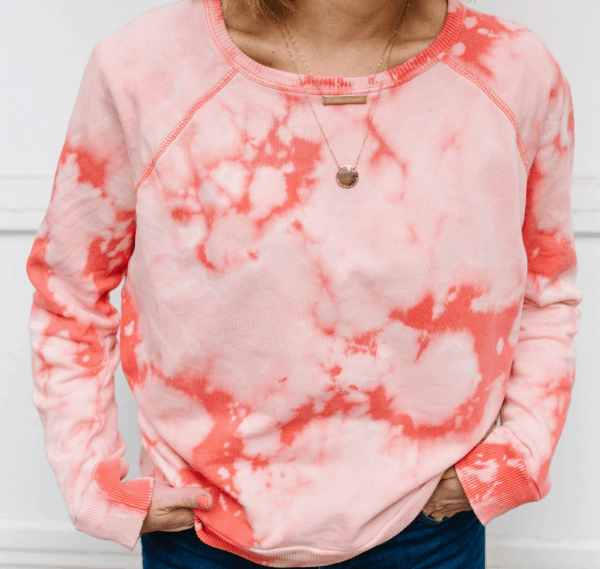 Reverse Tie-Dye Sweatshirt Top
This sweatshirt is transformed into a beautiful one of a kind design. Learn how to make your own with the reverse bleach top with this tutorial from prettylifegirls.com.