The Best Halloween Tie Dye Projects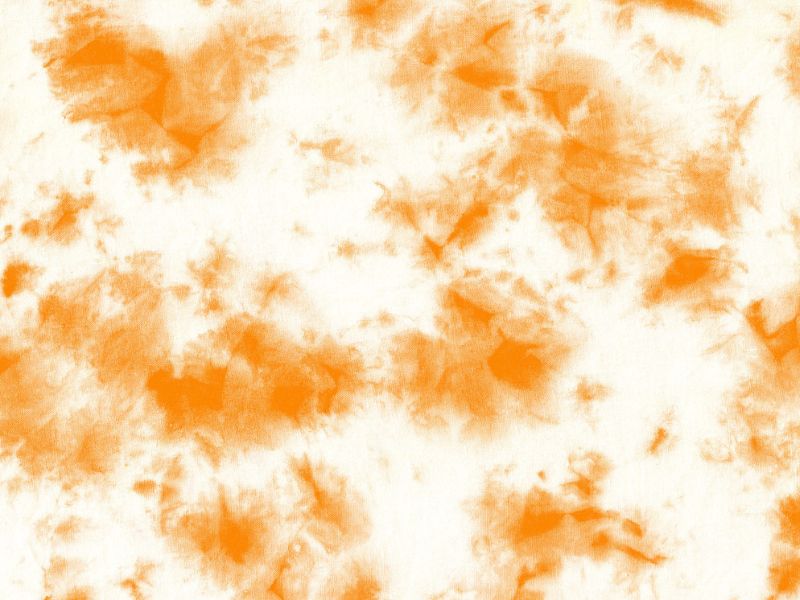 If you love everything tie dye, then you'll enjoy this collection of Halloween tie dye projects!
If you want to have a tie dye Halloween party or even make a tie dye Halloween costume, this is the go-to list for you!
What is Tie Dyeing?
Tie dyeing is adding color to fabric that has usually been bound with rubber bands or string. Most people tie-dye fabric using a tie-dye kit bought from a local craft store.
Unique tie dye patterns can be created with the way the string or rubber bands are placed, as well as where the color is applied.
You can also reverse tie-dye, which takes away color instead of adding to it like the traditional tie-dye technique mentioned above. Reverse Tie Dying is a technique that can be done at home without a kit.
Materials Needed for Tie Dye
Fabric or clothing item like socks, sweatshirts, bags and more.
Plastic squeeze bottles with tips that hold about 2 oz. (These can be found at local craft stores, or they are included in most tie-dye kits)
Dye (powder or liquid)
Rubber bands or string
Gloves
Plastic drop-cloth or garbage bags
Wire rack (optional)
Storage bag that can be resealed.
How to Tie Dye
Pre-wash: Wash your fabric or clothing item before beginning the tie-dying process.
You should prepare your workspace and supplies. Drop-cloths or garbage bags can be used to cover any surfaces. If you have a tie-dye kit, follow the instructions to make the dyes. Use a wire wrack overtop of the garbage or cloth to prevent staining of the surface and pooling of the dye.
If you're using a pattern, choose and fold it. (see below for pattern ideas and folding techniques). Before beginning the tie-dye process, decide on your pattern and the colors you want to use to ensure that you have all the necessary materials.
Tie your pattern together. Use rubber bands to hold your item together. It will take more dye to penetrate the tightly bound patterns, and the opposite is true for more loosely rubber-banded items.
Dye your item. Next, put on your gloves and start squeezing the dye onto the fabric of your item. Have fun with how much dye you add and the colors you pick! This part is what will make the tie-dye project unique to you. Continue applying the dye so that the same color goes over the edges and the back.
Let the project sit. Keeping the rubber bands on, place the project in a sealed bag, such as a gallon plastic bag. Your item should be kept damp, so the dye can fully penetrate it, which is about 6-8 hours.
You should rinse and wash the item. Remove the rubber bands by carefully cutting them off and rinse your item with cold water. When you are rinsing the item, make sure to be careful of staining. Then, wash and dry your items according to the instructions for your dye kit.
Tie Dye Patterns and Shapes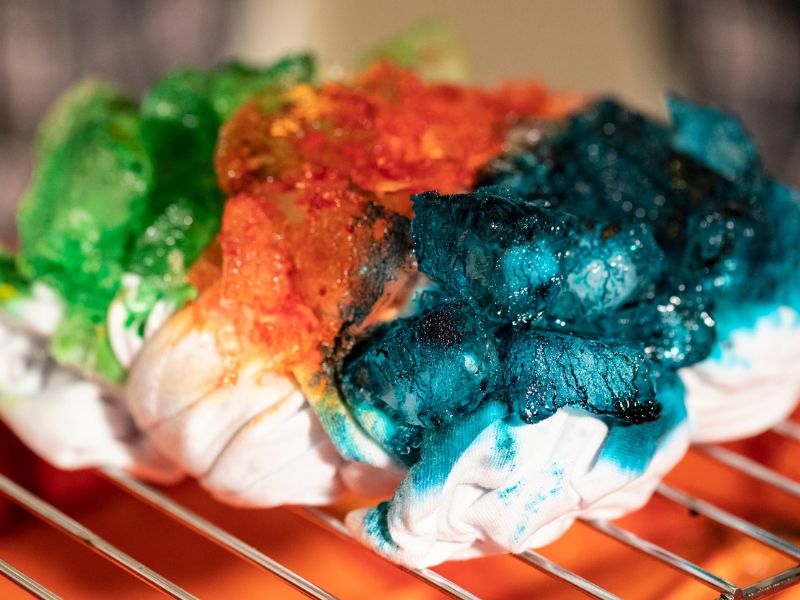 Spiral Tie Dying – Pinch the fabric at the center and swirl until it looks like a pinwheel. Place rubber bands around the center, so it almost looks like a cut pizza pie.
Accordion Tie Dyeing: Learn all about the accordion tie-dye technique from Tulip.
Ice Dye. Ice dyeing is the process of putting ice cubes on top of fabric and sprinkling dye on top of the ice. The melting process will dictate how the dye splits and bleeds, and where it lands on the fabric.
Crumple Tie Dying – crumple up your fabric evenly and secure with rubber bands. (This is the one I used!)
Folding Tie Dying – use different folding techniques to create a unique piece. Learn more about the Folding Tie Dye Technique with this video, so you can create some fun stripe tie-dye designs.
Clipping Tie Dying – use one or multiple clips or clothes pins to hold the fabric in place to create a fun design
Halloween Tie Dye Projects
Halloween T Shirts
Halloween Socks
Halloween Costume
Halloween Hair Clips
Halloween Tee Collection
You can follow the tutorials below to create some spooky Halloween pattern tie dye creations as well a fun costumes too!
What Else Can I Tie Dye?
Make some spooky Halloween Tie-Dye projects using the other fabric items below.
Wash Cloths
Dish Towels
Pillow Cases
Socks
Bags