60+ Best Sayings for Valentine's Day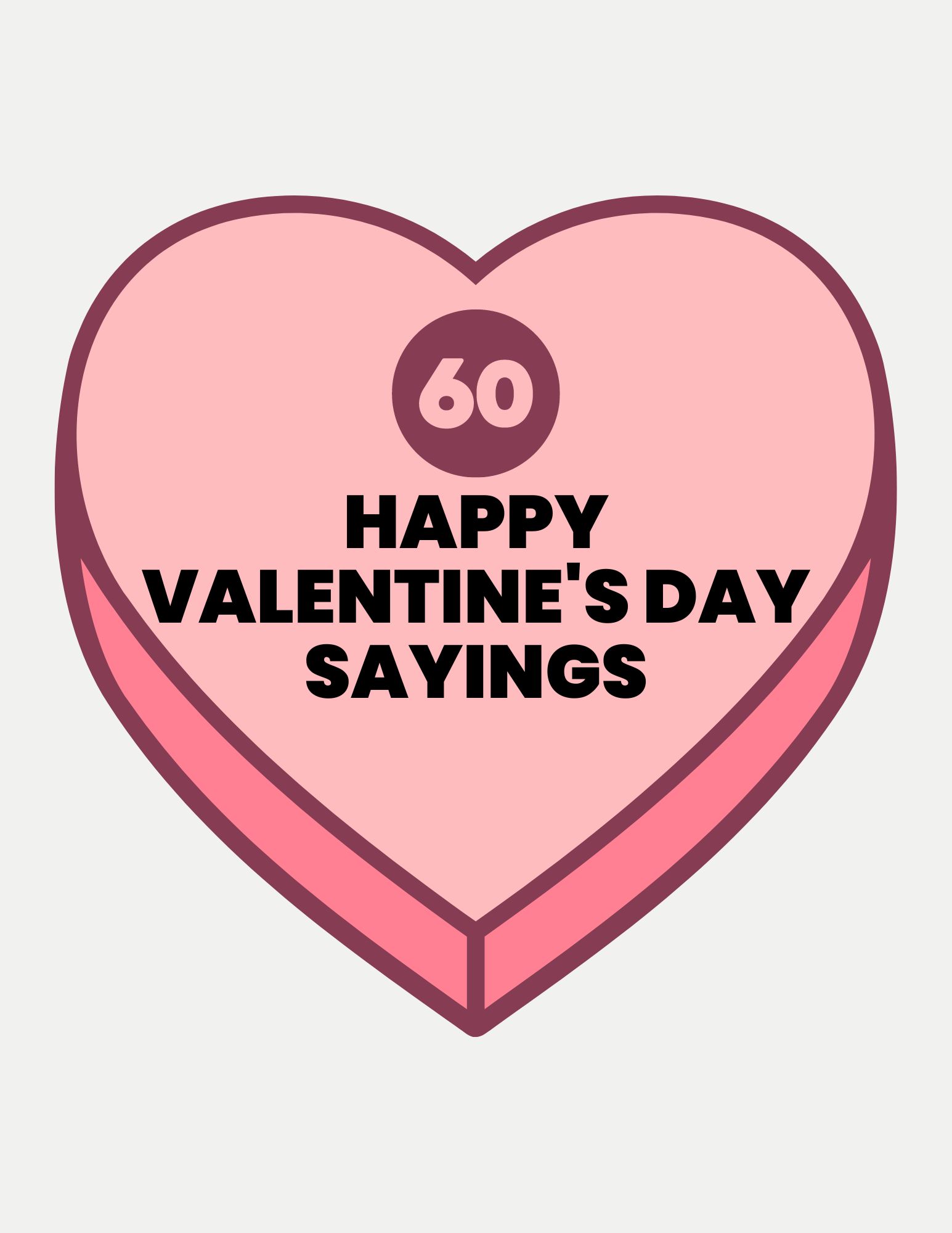 Are you looking for one-of-a-kind sayings to put on a Valentine's Day card? If so, you'll love each one of these cute sayings for Valentine's Day.
Valentines's Day is a favorite time of year for my family. We love giving Valentines with fun sayings and love receiving them as well. The best part for us is personalizing the Valentine cards and that where this list of Valentine sayings can make it extra fun.
Cute Valentine's Sayings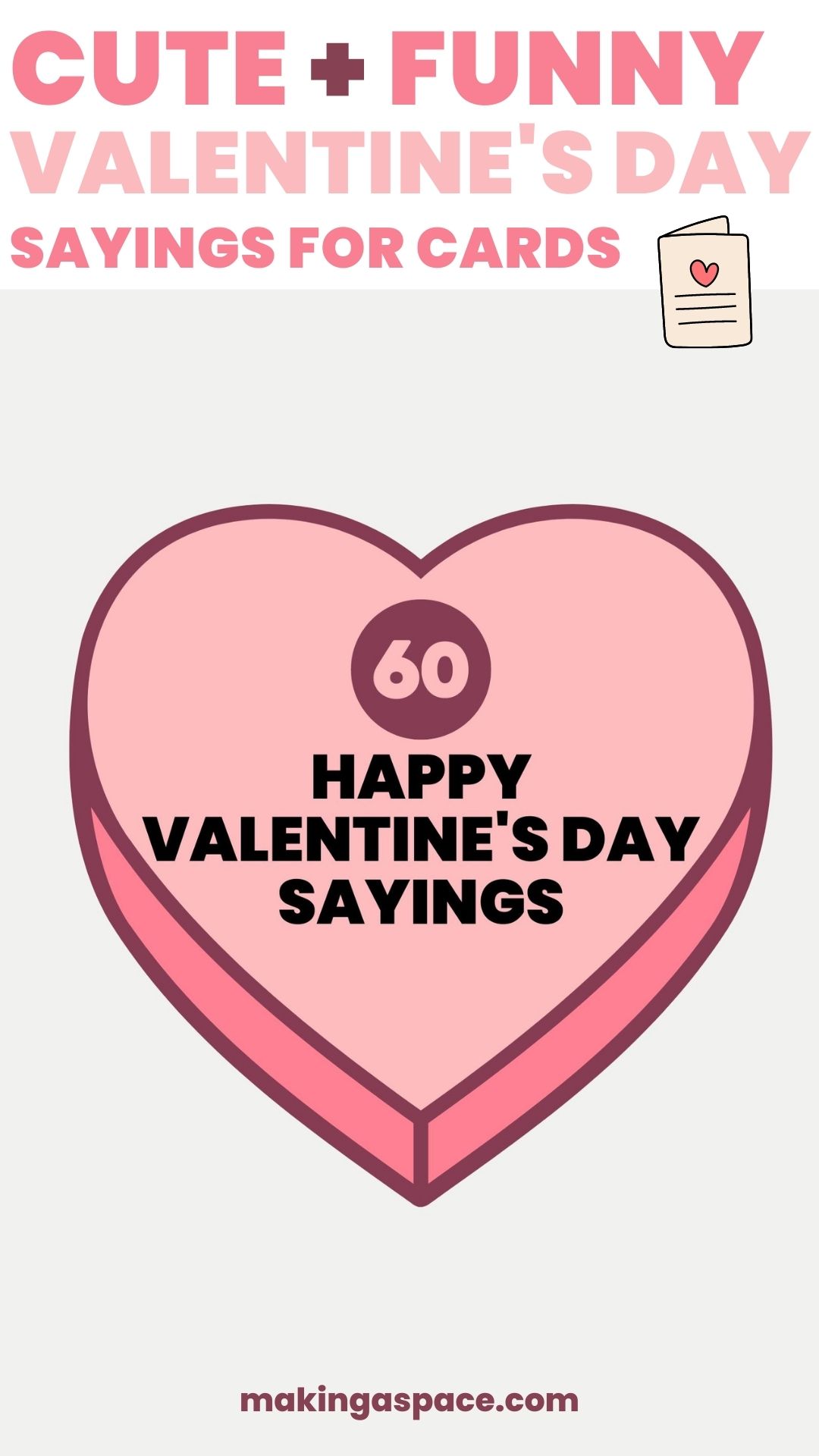 This list of cute Valentine's Day sayings will be the perfect addition to your Valentine's Day cards this year! You won't ever have to feel stuck on what to write inside that card again.
These sayings are a quick and easy way to add a little fun to a Valentine's Day Card. You can attach a gift tag to your card with these sayings. These sayings and puns are easy enough to attach to small gifts like toys, candy, and more to up your gift giving.
If you aren't sure quite what to say in a Valentine's Day card, this list has got you covered, from funny Valentine's Day sayings to sweet sayings that are perfect for the Valentine's Day holiday!
Funny Valentine Sayings For Kids, Cards, Gifts + More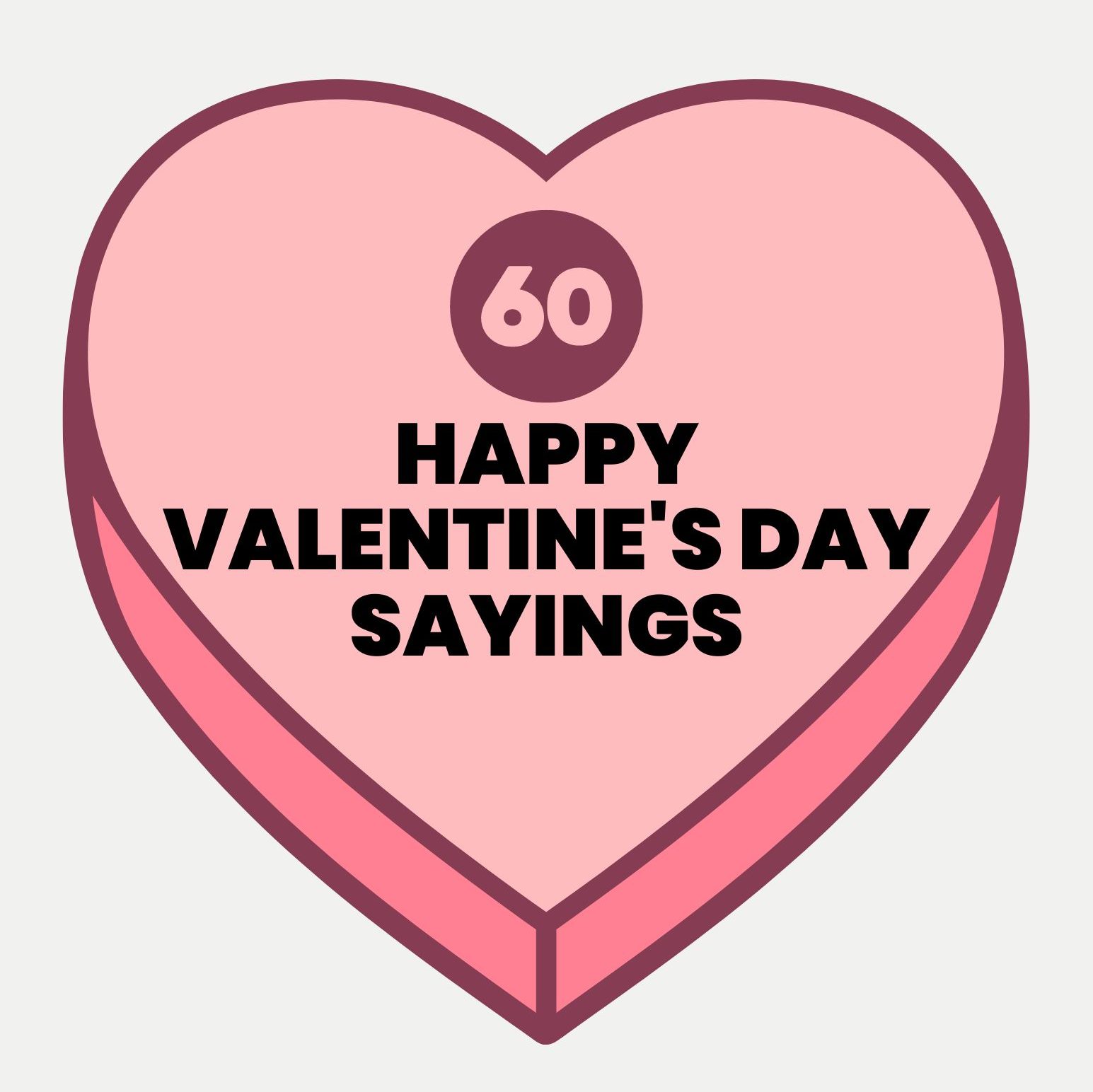 Read on down to find a collection of sayings for Valentine's Day that are funny, full of puns and sweet too!
Snack, Food, and Candy Valentines Sayings
---
You're One Smart Cookie – Attach a homemade cookie or prepackage cookie to complete.
You've Stolen a Pizza My Heart – Attach these to a gummy pizza candy, plus get the free printable pizza valentine to go with the gift.
You Make my Heart "Pop" – Place this saying on top of a bag of microwave popcorn, popcorn snacks or candy popcorn or use our free printable to print them right now!
You're Cool – Include a gift certificate for a local ice cream shop or an ice cream novelty item on the card.
You're No Air Head – This cute airhead candy valentine saying can be attached to an Airhead.
You're off the Hook – Use with gummy worms (Albanese brand is my favorite!) or fish crackers.
I'm So Glad We Are In The Same School – Goes great with fish crackers or Swedish fish candy.
You Really Blow Me Away – Attach this saying to a card with a blow pop.
I Need S'more Friends Like You – Use this cute campfire saying with an attached chocolate bar and marshmallow.
I Like How You Roll – Goes great with Tootsie Roll candy or a toy matchbox car.
Our Love was Mint to Be – Mints, mint gum or even a mint scratch and sniff goes well with these Valentines.
I'm "Bursting" with Happiness That You're My Friend – Starburst candy go perfect with this saying!
I'm "Berry" Happy We're Friends – This is an adorable saying for Valentine's Day that goes great with a pack of fruit snacks.
Treats for my Sweet – A cookie, heart themed snack or any type of sweet will go great with this card.
It's a Treat Having You For a Friend – Write this cute saying on a cookie bag, snack or any treat your friend enjoys.
Some Bunny Loves You – Put with a pack of bunny crackers
Thanks for Being So Sweet – Goes great with a bag or jar of candy, cookies or snacks.
You're a Real Gem, Valentine – Put this saying with a ring pop lollipop.
You're EXTRA Awesome Valentine – Put with Extra brand gum.
I Dig You – A pack of gummy worms is perfect with this saying.
I'm Wild about You Valentine – Zoo Animal Crackers are extra cute with this Valentine.
You Bake Me Crazy – Pairs perfectly with a homemade cookie, cupcake or snack.
I Just Wanted to Pop In + Say Happy Valentine's Day – This Tootsie Pop valentine sayings is perfect for all ages!
Healthy Food Valentines Sayings
---
You're My Main Squeeze Valentine– Goes well with a squeezable fruit or applesauce snack.
Orange You Glad We're Friends? – A clementine or orange drink are cute with this fruity Valentine Pun.
You're Awesome Sauce Valentine – Use this free Valentine printable for on top of an applesauce cup.
You're a Catch – Attach a bag of fish crackers.
You're The Apple of My Eye – An apple, apple slices or 100% apple juice drink are perfect with this saying.
You're My Favorite of The Bunch – A banana is a great way to add some fun to this Valentine.
Sip, Sip Hooray! It's Valentine's Day – Put with 100% juice.
Valentine, You are Worth Melting For – Put this saying with a bottle of water, so it looks like a melted snowman using this melted snow free printable and tutorial.
You're the "Raisin" I'm Smiling – You'll want a box of raisins for this saying!
I Like You "Beary" Much – Goes great with Teddy Graham snacks.
You're a Cutie – Another one that goes great with a clementine or cutie.
I'd Never String You Along – This saying goes extra cute with string cheese.
I Am Nuts About You – Great with a small pack of peanuts
You are "Pear"fect! – A pear or pear snack is perfect to attach.
I'm Bananas About You – A banana or freeze-dried bananas go well.
You're a Peach – This saying goes great on top of a peach fruit cup.
I Know It's Cheesy But I'm Glad We're Pals – Cheese stick, cheese cracker or any cheese snack goes well.
Non- Candy Valentines Sayings
---
Have a Jawsome Valentine's Day – These V-day card would be cute with a toy shark attached to them.
I Think You Are Just "Write" – This saying goes perfect with a Valentine Pen, Valentine Pencil or a cute matching Valentine themed notepad.
You Make My Heart Soar – Attach a toy airplane or paper airplane DIY printable.
You're Dino Mite – Include a toy dinosaur
Love Is In The Air – Goes with a balloon or heart shaped balloon.
I Get a Kick Out of You – A toy soccer ball or football are great for this pun.
You Rule – Goes well with a ruler for school or home.
I Like You a Bot – A toy robot or robot themed toy goes great.
I'm Bubbling with Excitement That You are My Friend – Use this saying with a small container of bubbles.
I Am Stuck On You – Stickers or glue sticks would be cute with this saying.
You Make My Heart Glow – Attach to glow sticks, necklaces and anything that glows in the dark!
I Think You Are Pretty Sharp – Goes great with a heart shaped pencil sharpener
You "A-maze" Me Valentine – This card is so cute with a mini maze attached or if you can find it a heart shaped maze toy.
You're Number One in My Book – A Valentine bookmark or themed bookmark would work for this saying.
I Only Have Eyes for You – A pair of heart shaped glasses are cute with this pun.
Snap to It! Be Mine Valentine – You can give this card with a slap bracelet and or a toy alligator.
You Make My Heart Bounce – Give a bouncy ball or ball with this Valentine card.
Have a Ball This Valentine's Day – Also, great with a bouncy ball toy.
Happy Valentine's Day, "XOXO" – You can put this saying with a tic-tac-toe game.
Have a Magical Day – This can be given with a toy unicorn, rainbow pencil or magic themed.
You Color my World – A pack of crayons or individual crayons go well with this Valentine Pun.
Pucker Up Valentine – Put with a lip gloss or lip balm. Some lip balms are even scented like chocolate and candy which would make this an extra cute Valentine.
Valentine, You Light UP My Life – Glow sticks, glow in the dark toys or mini flashlight would work with this saying.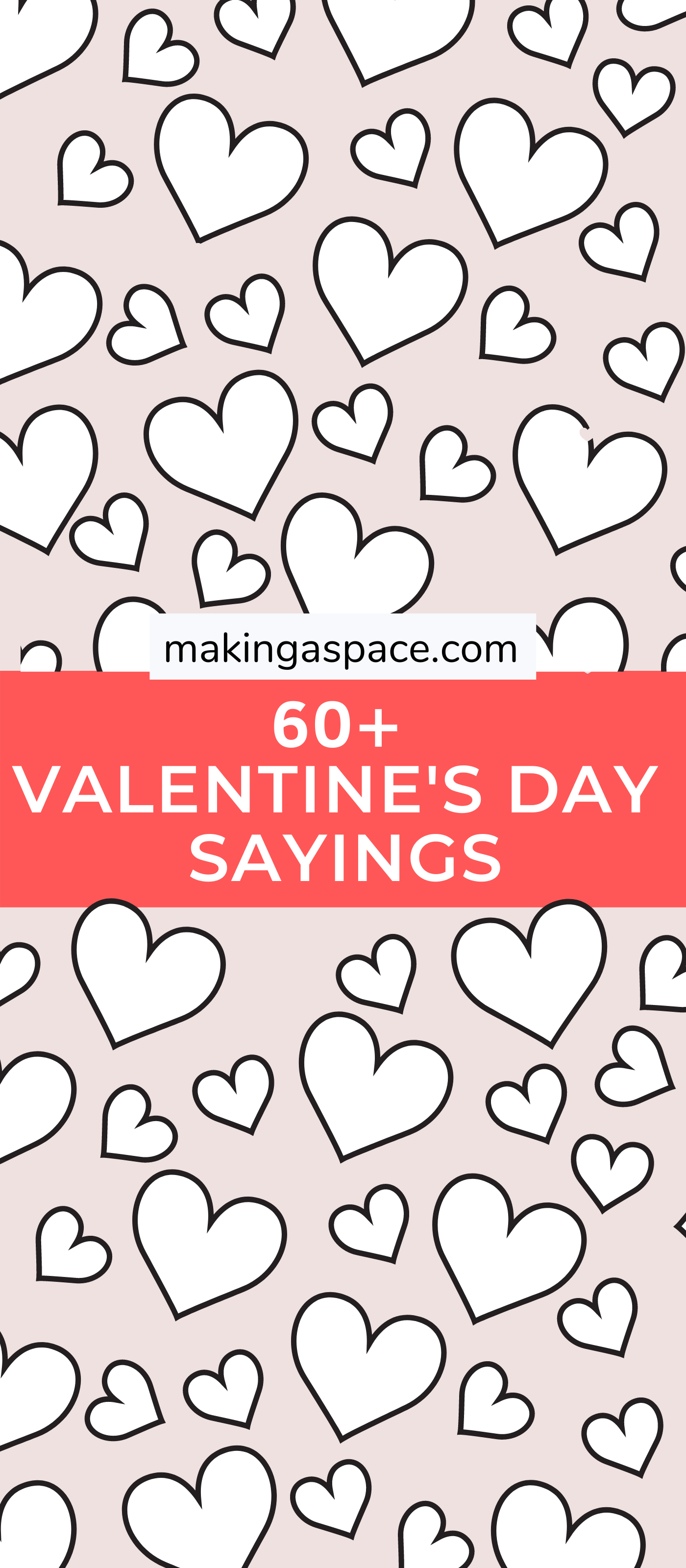 More Valentine's Day Fun you May Enjoy