You Make My Heart Pop Valentine Tags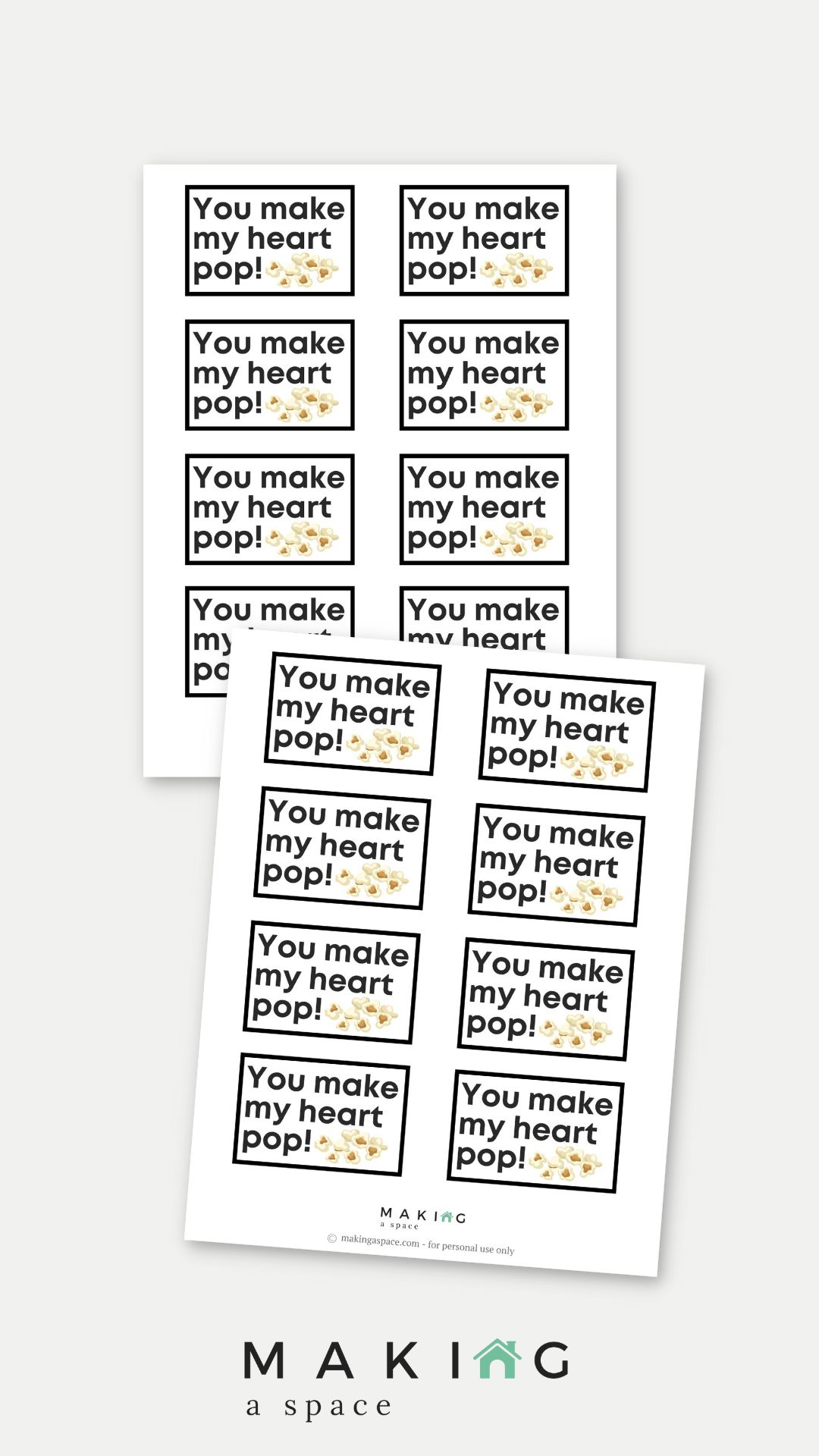 These You make my heart pop Valentine gift tags are perfect to attach to a gift to a friend, teacher, or classroom party or really anywhere you take a gift this year for Valentine's Day. You can attach these Valentine party tags to anything you'd like.
You'll love that the Valentine gift tags printable featuring popcorn, plus they are easy to print and attach immediately to whatever popcorn-based gift (bag of popcorn, popcorn snacks and more) you'd like! The best part is that there are 8 tags, so you can use one for every one of your friends or family!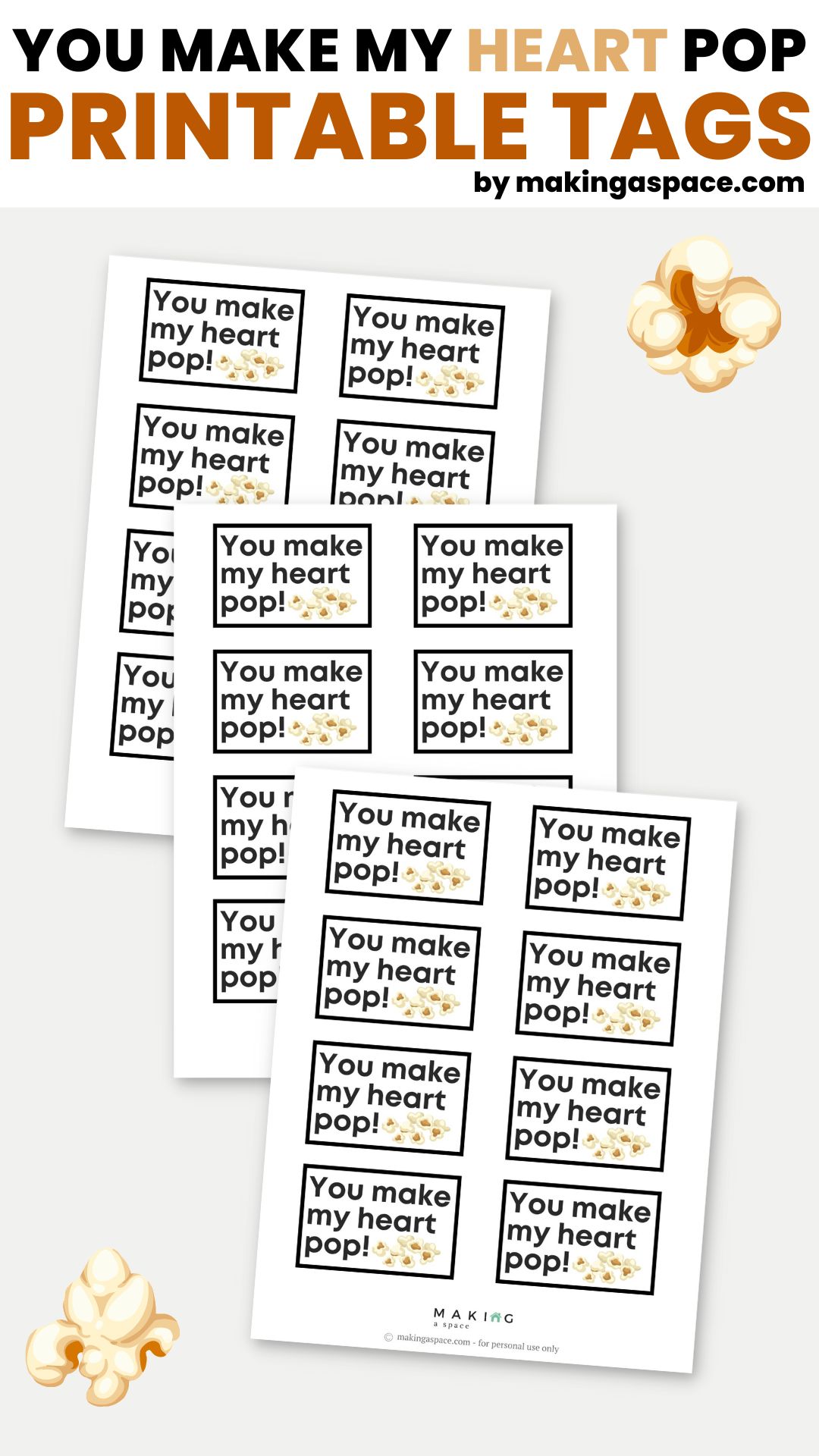 Supplies for Gift Tags
You'll need a few materials to be able to print and use these Valentine's Day gift tags featuring popcorn. Take a look below at what we recommend for easy printing and using of these tags.
Printer
Hole Punch
Twine, Ribbon, or Yarn
Scissors or Paper Cutter
I highly recommend using card stock for your tags because they will be able to withstand being handled when you attach them to your Valentine's Day gift.
Next, you'll want to have a hole punch on hand to place a hole wherever you please on the Valentine tag, so you'll be able to attach it to the gift. I recommend the right upper hand corner for the best placement on the tag.
How to Use the You Make My Heart Pop Valentine Gift Tags
It is easy to use these gift tags for Valentine's Day, featuring cute popcorn!
First, Once you have received the free printable from below, you will then print the tags from your phone or computer onto the white cardstock.
Secondly, after printing the tags, use scissors to cut them out. If you'd prefer a cleaner edge to your Valentine tags, then you can use a paper cutter instead.
Next, with a hole punch, place a hole in the upper right-hand corner of the tag or wherever you feel is best for the Valentine's Day gift you are giving. Placing a hole in the tag is optional. You could always tape the tag directly to the gift if it is better suited for it instead, like in the case where you'd like to put them directly onto a bag of microwave popcorn.
Finally, for the next part you will need twine, ribbon, or yarn to attach the tag to the gift if wanted.
The last part is fun because you can use a Valentine's Day ribbon (red, pink, or hearts), or colored yarn like red, so it matches the gift.
You Make My Heart Pop Gift Tags Free Printable
Use the button below to get the "You make my heart pop" valentine printable for free to use on your next Valentine's Day gift!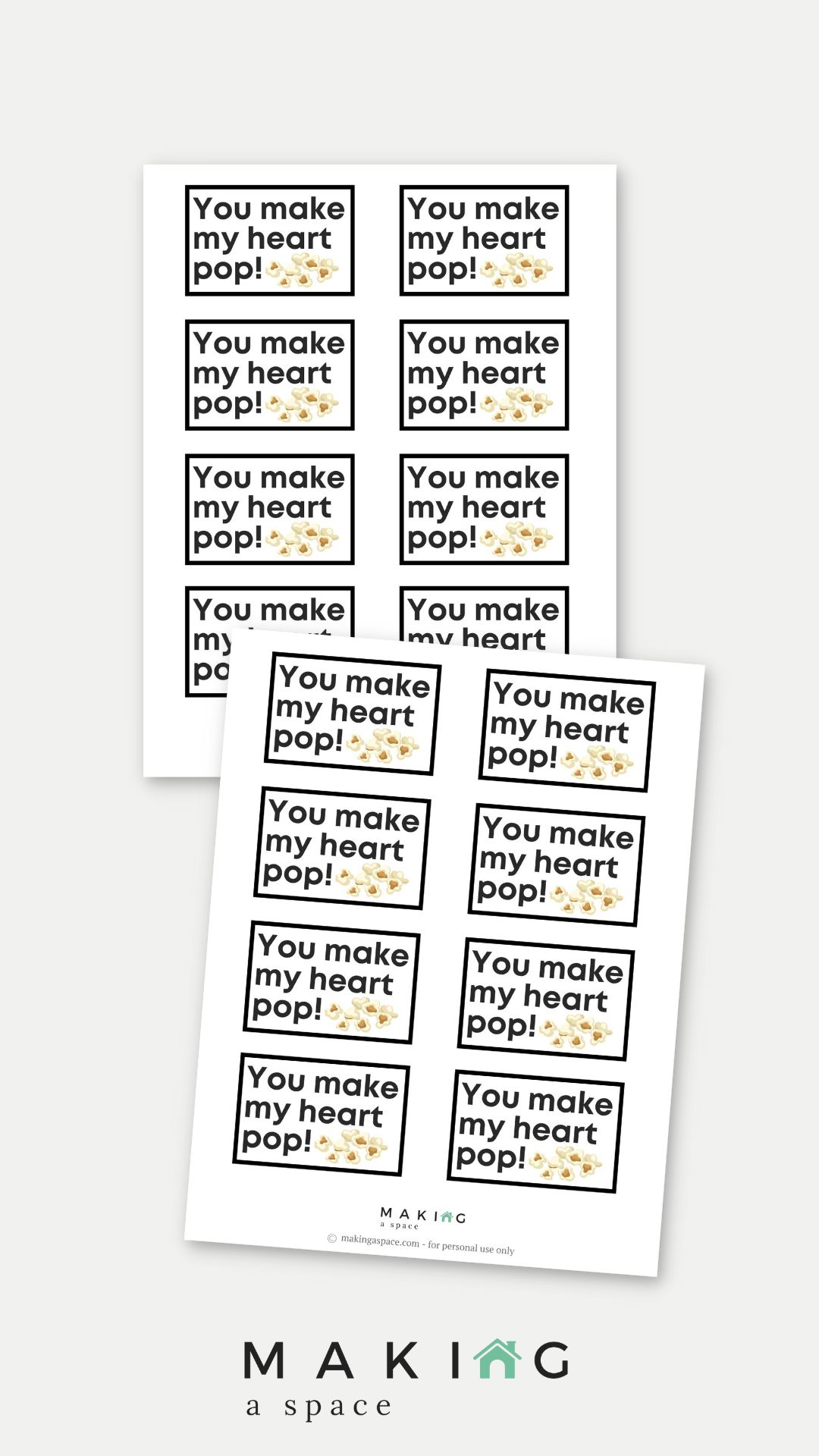 I hope you enjoy this Happy V-Day printable tags, and please tag me on Instagram if you use them. I'd love to see.
Furthermore, if you want to save these Valentine tags to print later, please save the image above on Pinterest.
What are some Other Popcorn Valentine Sayings?
Just Poppin' in to say Happy Valentine's Day!
Hey Valentine, What's Poppin?
Valentine, we're Butter Together!
Have a Poppin' Valentine's Day!
Valentine, You Make my Heart POP!
You Make my Heart Pop!
You're the Butter to my Popcorn!
I'm 'Popping' with Love for You!
You're my Perfect Match, like Popcorn and a Movie!
Let's 'Pop' the Question and be Valentine's Forever!
More Free Printables + DIYs
I hope you enjoyed this free valentine printable! If you like the You Make My Heart Pop Valentine Tags above, take a look at some more Valentine printable and crafts below!